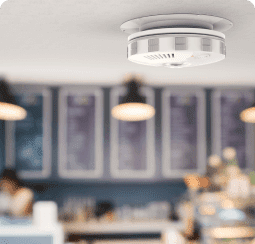 You'll never have to say that your property went up in smoke if we can help it. Our fire and safety team have tried and tested the best and worst products to bring you solutions that reap the most promising results against fires.
The first and best defence against a fire is an effective early warning system. With this in mind, Fidelity SecureFire smoke detectors are designed to react to the first sign of a fire and has an active life span to protect your property for up to 10 years.
As soon as a potential fire has been detected, an alarm will signal our 24-hour monitoring centre to immediately dispatch the nearest response team.
The latest home security solutions
How does signing up work?
Becoming a Fidelity ADT protected member can be done in a few easy steps.